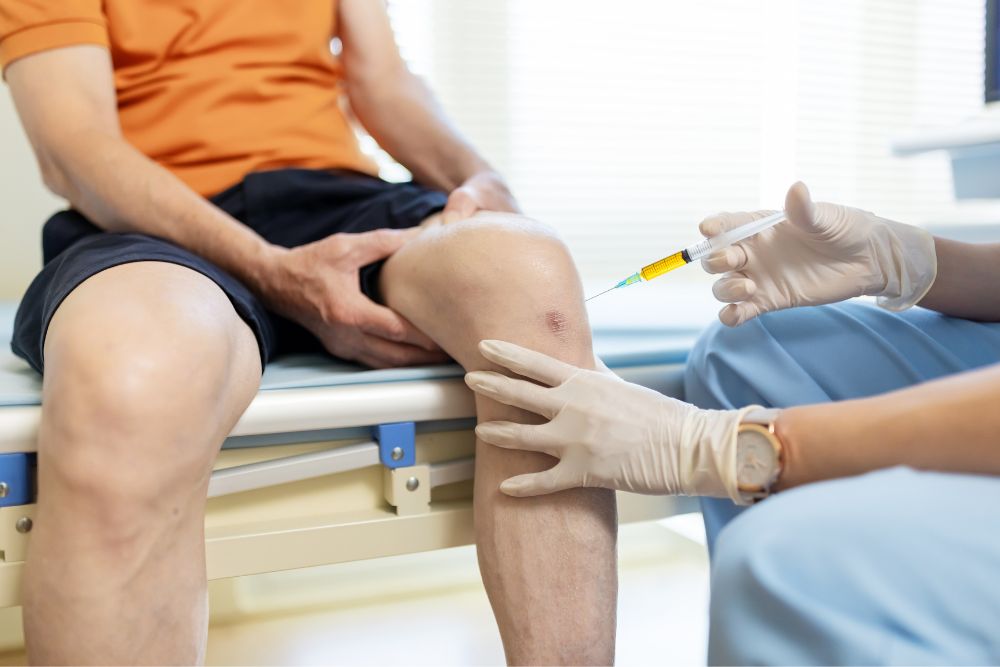 Knee pain is a common issue many people suffer from, stemming from various injuries and medical conditions. As an award-winning orthopedic practice in Hudson County, New Jersey, we have treated a wide spectrum of knee pain, including ACL tears, torn meniscus, knee bursitis, ligament injuries, runner's knee, and many others. Thankfully, there are numerous orthopedic treatment options that do not require surgery!
Non-Surgical Knee Pain Treatment Options
At The Orthopedic Health Center, we exhaust every non-surgical avenue to help alleviate our patients' knee pain. Our orthopedic specialists can provide several non-surgical treatments such as injections, physical therapy, and assistive devices.
Below are a few examples of some non-surgical orthopedic treatment options for knee pain.
Injections
Types of injections your orthopedic specialist may order, to help reduce your knee pain, include:
Cortisone injections into the knee joint can help relieve knee pain for several weeks; cortisone is often ordered to treat pain caused by knee conditions such as arthritis and bursitis. After numbing the area around your joint, the orthopedic specialist injects medication into the joint space with a needle.
Hyaluronic acid injections (i.e., viscosupplementation) can help lubricate the knee joint and provide pain relief for inflammatory knee conditions such as osteoarthritis. Hyaluronic acid is similar to a component normally found in your joint fluid.
Physical Treatments
There are several types of physical treatment methods that orthopedic specialists recommend to reduce pain and swelling for knee pain, including:
Heat or cold therapy
Ultrasound
Electrical stimulation
Appliances and Assistive Devices
Orthotics (i.e., devices that improve function, encourage proper joint alignment, and protect the limb) or braces can help support the knee joint while correcting knee alignment. This type of non-invasive treatment helps to improve knee pain and improve function. A cane or walker can support mobility and reduce strain on the knee joints, helping to alleviate some of the pain, particularly if you have mobility challenges.
Education and Self-Care
Educating yourself about proper knee care, self-management techniques, and home-based exercises is crucial for effectively managing pain without resorting to surgery. Many resources are available in the office if you have any questions.
Get Non-Surgical Orthopedic Care for Knee Pain in NJ
If you are experiencing knee pain that doesn't improve with over-the-counter medications, have noticeable swelling, warmth, tenderness, or unusual popping noises when flexing, reach out to us for a comprehensive evaluation. A consultation with our orthopedic specialist can determine the most appropriate non-surgical treatment plan.
Let us help you get back to your daily activities, pain-free!
Contact The Orthopedic Health Center to schedule an appointment at one of our offices in Hoboken, Jersey City, or Bayonne, NJ.
You no longer have to live with pain.
Appointments available now.