Orthopedic Care for Scoliosis
Scoliosis is a condition that most commonly occurs in adolescents, when the spine curves in an abnormal way (normally sideways). If left untreated, scoliosis can result in severe issues. Most scoliosis cases are considered mild and others are severe, but no matter the type, all of them can worsen as the spine continues to develop. In extreme cases, scoliosis can cause difficulty breathing (due to increased pressure on the lungs) and physical deformities.
Doctors may recommend a brace to correct how the spine is growing, but it will depend on how severe the situation is when the scoliosis is discovered. Fortunately, in most minor cases, no treatment is considered necessary to recover from scoliosis.
Get Advanced Back & Neck Care
Right In Your Neighborhood
Finding the treatment that's right for your back and neck problem is our focus at The Orthopedic Health Center. We use non-surgical treatments whenever possible. When you do need surgery, our expert surgeons help you heal faster and with less pain. All right in your neighborhood: Hoboken and Jersey City.
Symptoms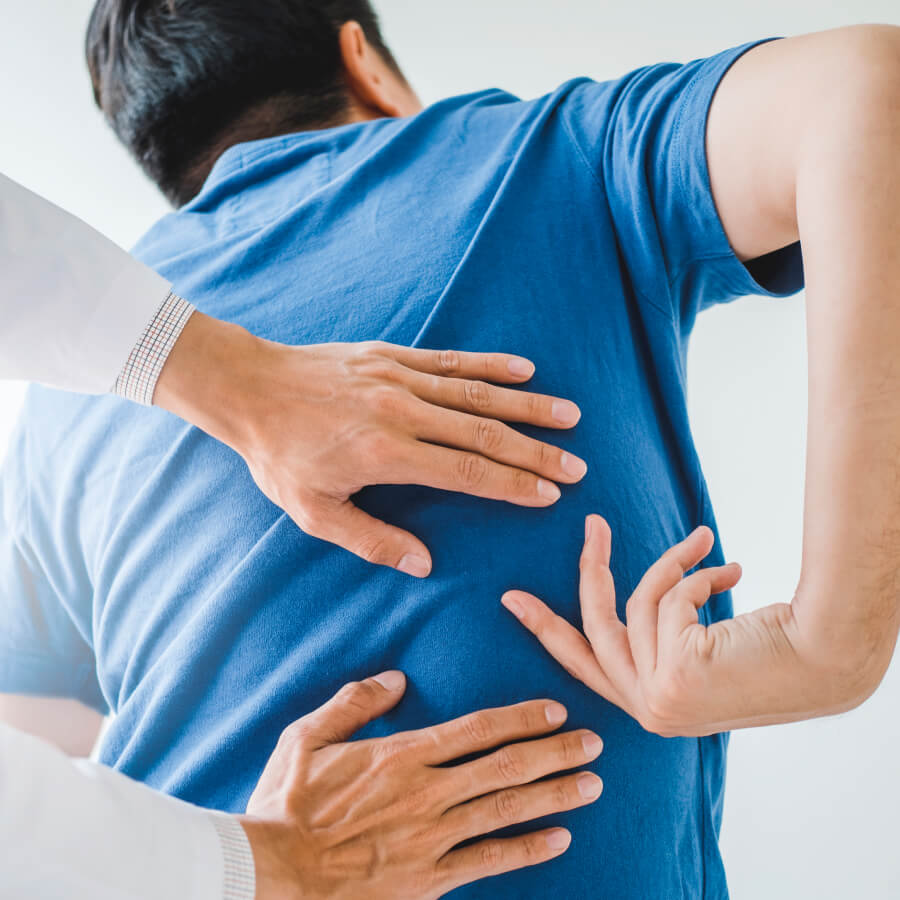 When it comes to scoliosis, the most common symptoms are:
One side of the ribs jutting forward/looking like it's protruding
Uneven shoulders or one shoulder blade that sticks out more than the other
A bulge or prominent raised section in the back when bending over
If you notice any of these in your child, reaching out to a medical professional is the safest option. A pediatric orthopedic specialist can examine the area to assess the situation and determine the best course of treatment for your child.
Causes and Risk Factors
Those who have conditions such as muscular dystrophy and cerebral palsy tend to suffer from abnormal spinal development situations, such as scoliosis. However, research hasn't yet discovered exactly why scoliosis develops, and why it predominantly does so in children.
Researchers attribute scoliosis to genetics, birth defects, previous surgery, the aforementioned neuromuscular conditions (cerebral palsy and muscular dystrophy), injuries or infections to the spine, and irregularities in the spinal cord. Scoliosis also tends to be more prevalent in those who are younger, female, and those with a family history.
The Most Advanced Surgical Techniques
Take a closer look at the level of care to expect at The Orthopedic Health Center.
Treatment
Depending on the severity of the scoliosis, the treatments can vary. If the scoliosis is mild, very little treatment — if any — may be recommended, although the child will likely be required to go to many check-ups to continue to monitor the condition. Those who have more severe scoliosis, may have to use a brace to prevent scoliosis from worsening. In extremely severe cases, your doctor may recommend surgery.
Takeaway
If you think that your child might suffer from scoliosis, it's best to get a confirmation from a pediatric orthopedist to prevent the condition from worsening. Our pediatric orthopedic doctors are available for consultations in both Hoboken and Jersey City. Don't wait; call us today!
Additional Resources
Feeling good shouldn't require a wait.
Appointments available now.