Overview
Near the joints in the body, there are small, fluid-filled sacs that are meant to help with movement, as well as to help cushion the bones from tendons, nerves, and muscles. These fluid-filled sacs are called bursa, and if they become inflamed, you might struggle to use your knee and you might feel pain. When this happens in your knee, this is known as knee bursitis.
For knee bursitis, you will commonly feel pain in the inner side of your knee, below the joint, or over the kneecap. If you have pain in your knee, you should contact a medical professional as soon as possible. They will likely suggest a regimented plan of doctor-administered treatments, physical therapy, and prevention techniques. With knee bursitis, the goal is to reduce the amount of inflammation and knee pain you experience.
Get Advanced Ankle Care
Right In Your Neighborhood
Finding the treatment that's right for your knee problem is our focus at The Orthopedic Health Center. We use non-surgical treatments whenever possible. When you do need surgery, our expert surgeons help you heal faster and with less pain. All right in your neighborhood: Hoboken and Jersey City.
Symptoms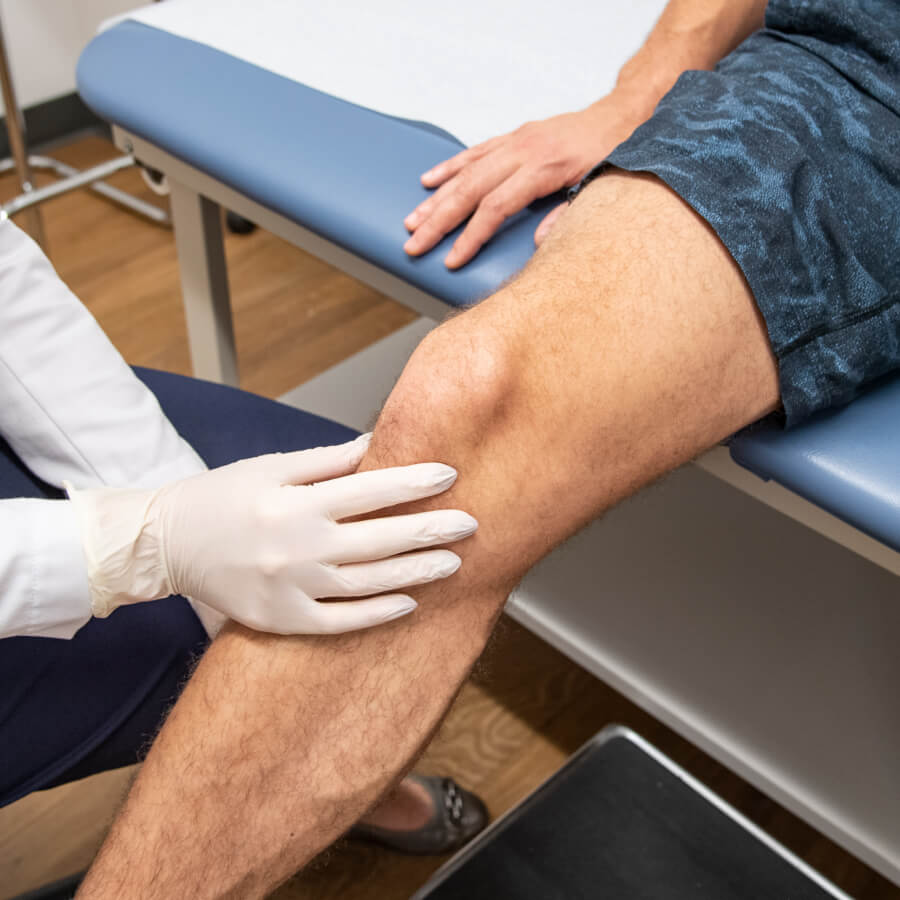 There are several potential symptoms when it comes to knee bursitis. The symptoms can vary depending on which bursa – if any – are inflamed or if they're affected. Whichever part of the knee is inflamed might be swollen, tender, warm, and it might hurt when you put pressure on it. You may also feel pain even when you're sitting and when you move.
Causes and Risk Factors
A traumatic injury to the knee can cause these symptoms to appear. However, more commonly, you'll find that bursa irritation and friction from activities that require kneeling on hard surfaces can cause knee bursitis. If left untreated, these symptoms can worsen as time continues.
If you're feeling pain in your knee, reaching out to a doctor or other medical professional is recommended. If left untreated, the kneecap bursa can become infected which can lead to more serious conditions.
The most common causes of knee bursitis are:
Pressure on the knee, especially on unpadded or hard surfaces
Strenuous activity, particularly activity that puts additional strain on the knee
A traumatic injury to the knee
Bursa that has become infected
Gout or arthritis in your knee or the knee bursa
Being overweight
A Minimally-Invasive Approach to Knee Repair
A common misconception is that you need a big, open surgery to fix your knee. We use modern, minimally-invasive procedures to avoid this path whenever possible – and many of our patients are up and walking by the next day.
Treatment and Prevention
To decrease your chances of suffering from knee bursitis, you can try to wear kneepads when you're working on your knees or if you're playing sports that run the risk of injury to your knee. Another option is to avoid doing an excessive number of squats. Maintaining a constant and healthy weight can also help remove the stress from your knee, and it can lessen the pressure that will be on your knee should you strain it or suffer a minor injury.
Doing what you can to ensure that the muscles, tendons, nerves, and joints in your knee remain limber and flexible will go the longest way towards avoiding a knee injury.
Treatment for knee bursitis may include physical therapy, steroid shots or injections in the knee, other at-home treatment recommendations, or even knee surgery, depending on the severity of the knee pain and what the orthopedist recommends.
Takeaway
Knee bursitis is a painful injury that shouldn't be ignored or left untreated. The resulting knee pain from knee bursitis can affect quality of life and lead to greater health concerns. Our orthopedic doctors are experts in knee pain. Let us help you find knee pain relief. Appointments are available same-day; contact us now!
Additional Resources
Feeling good shouldn't require a wait.
Appointments available now.