Edward Feliciano, MD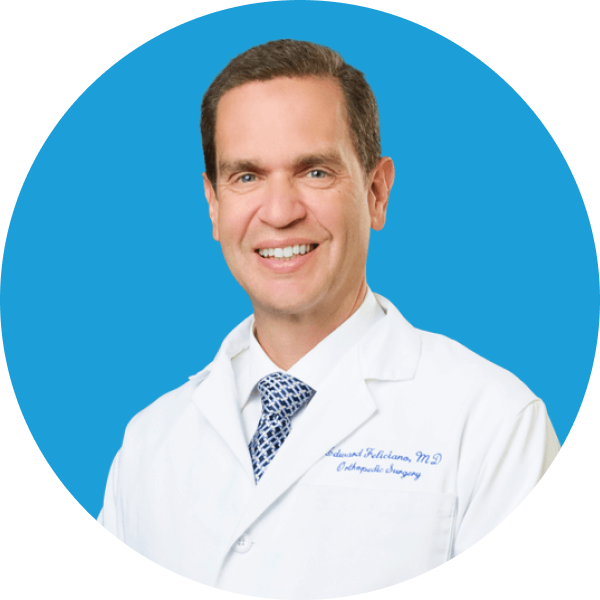 Director of Orthopedic Surgery
Edward Feliciano, MD is a friendly board-certified orthopedic surgeon and the director of orthopedic surgery at The Orthopedic Health Center. He received his Bachelor's degree in Biology from Yale University. He then attended Cornell University Medical College, after which he completed an internship at Emory University.
After completing his internship, Dr. Feliciano joined the United States Navy. He served three years of active duty as a flight surgeon. During his time as a flight surgeon, he completed a six-month deployment aboard the USS George Washington aircraft carrier. Dr. Feliciano finished one year of general surgery training at Sound Shore Hospital in New Rochelle, New York. He then completed his orthopedic surgery residency at St.Vincent's Catholic Medical Center in New York City. Dr. Feliciano completed his sports medicine fellowship in Washington, DC at Georgetown University's Nirschl Orthopedic Center.
Dr. Feliciano performs surgeries that include arthroscopic shoulder stabilization, arthroscopic rotator cuff repair, knee arthroscopy, ACL, and cartilage and preservation techniques. He is fluent in both English and Spanish.
Papanicolaou Fellow of Anatomy, Cornell University Medical College, 1998
National Hispanic Scholar, 1997-98

American Academy of Orthopedic Surgery
Arthroscopy Association of North America
American Orthopaedic Society of Sports Medicine
American College of Sports Medicine
International Cartilage Repair Society
Connecticut State Medical Society
Feeling good shouldn't require a wait.
Appointments available now.