Orthopedic Care for Neck Pain
Neck (or cervical) pain is one of the most common injuries. There are minor pains that you might receive from sleeping incorrectly, and larger ones, such as whiplash, that are caused by traumatic situations. In most cases, there's no telling how severe the neck pain might be without medical expertise, so if you've experienced an injury in your neck or if you're suffering from neck pain that doesn't abate within a few days, it's best to reach out to your doctor.
In most cases, neck pain is due to minor issues, but sometimes, it can be indicative of something more serious. Numbness or weakness in your arms can be a sign that you need medical intervention. Listen to your body when it's telling you how it's doing and don't hesitate to seek help if you have any concerns.
Get Advanced Back & Neck Care
Right In Your Neighborhood
Finding the treatment that's right for your back and neck problem is our focus at The Orthopedic Health Center. We use non-surgical treatments whenever possible. When you do need surgery, our expert surgeons help you heal faster and with less pain. All right in your neighborhood: Hoboken and Jersey City.
Symptoms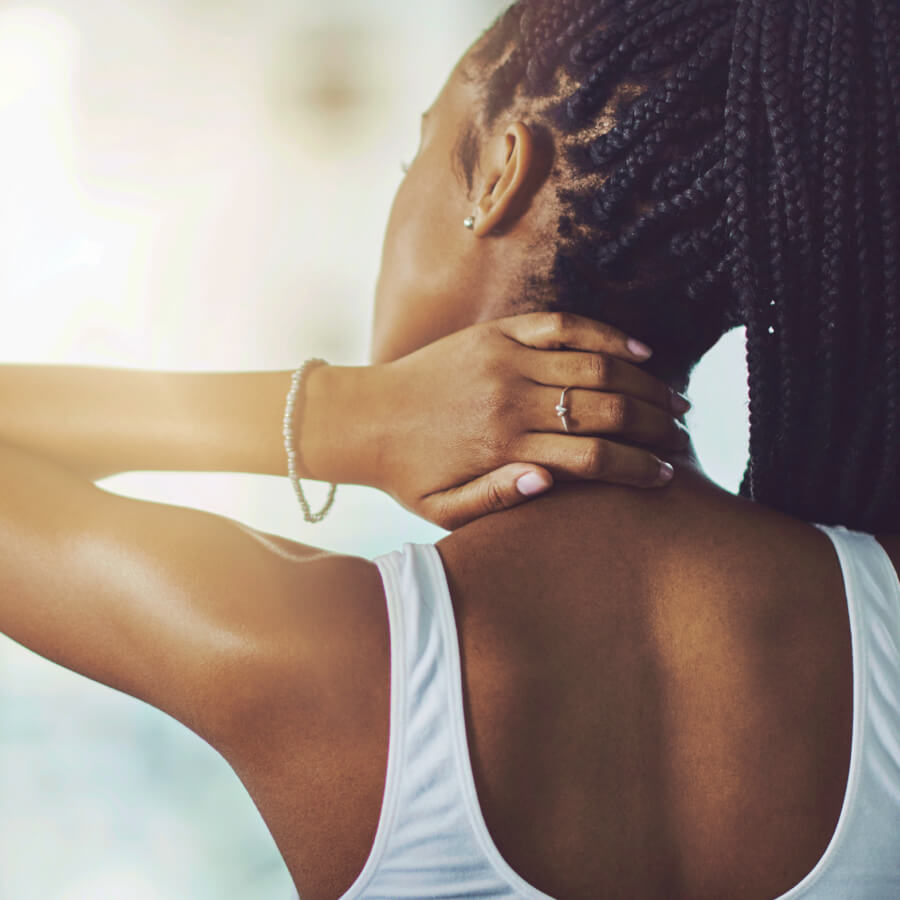 In most cases, neck pain is just that – pain. However, depending on how severe the neck pain or neck injury is, it can also result in weakness and numbness in the surrounding areas, as well as a stabbing or shooting pain that radiates down your arm(s). Many neck injuries and neck pain symptoms may worsen if you keep your head in one position for a long period (such as when you're staring at the computer and working all day or if you drive long hours). Neck injuries might also be accompanied by headaches, limited range of motion for your neck, and even muscle spasms.
As mentioned, if you've been in a situation where you've suffered from a neck injury and/or if your pain doesn't naturally subside after a few days, reach out to a doctor to get a diagnosis.
Causes and Risk Factors
Neck pain can appear due to several situations. This is because your neck is a very flexible part of your body, and it supports all the (not insignificant) weight of your head. Because of how vulnerable it can be, it's easy to injure while going about your daily life. However, factors such as increased age, worn joints, the compression of nerves in your spine, and – of course – traumatic impacts, such as what might occur in a car accident, can all result in neck pain. As with many neck injuries and neck pain, the appearance of pain in the area can be indicative of a larger underlying problem. If left untreated, the underlying problem can get worse and lead to more serious conditions.
The Most Advanced Treatments
Take a closer look at the level of care to expect at The Orthopedic Health Center.
Treatment and Prevention
When it comes to treating neck injuries, most of the treatment options are the same across the board. Self-care is a large factor, and in many cases, the injury will repair itself over a few days or weeks. However, in situations where this doesn't work, more intensive treatments will be recommended. These treatments can include anything from medications (such as anti-inflammatories and muscle relaxants) and physical therapy to steroid injections and pain management to chiropractic care.
Takeaway
It can be hard to know what to do with a neck injury. You might think that it's minor, or that it'll go away on its own, but as with many injuries to the body, it's better to know for sure than to play the guessing game. As such, if you're dealing with a neck injury or neck pain, consider reaching out to our orthopedic spine specialists. Our surgeons have years of experiencing and have helped countless patients with neck pain find the pain relief they seek. Contact us today to get on the road to recovery!
Additional Resources
You no longer have to live with pain.
Appointments available now.