World-class orthopedic care with a down-to-earth approach
Patients seeking exceptional, one-on-one orthopedic care no longer have to travel into New York City to find it. The Orthopedic Health Center, with three locations in Hudson County, is home to award-winning orthopedic surgeons who balance advanced surgical techniques with a common sense philosophy. Whether through surgery or a more conservative treatment option, we're dedicated to getting you back to doing what you love — close to home, in the hands of a dedicated, caring team.
Perhaps you're suffering from shoulder pain, a knee injury, are in recovery from a car accident, have a sports injury that won't heal, or are experiencing life-disrupting pain somewhere on your body. Whatever the situation, we start with a conversation that helps us understand your unique circumstance and move into a diagnosis and treatment plan.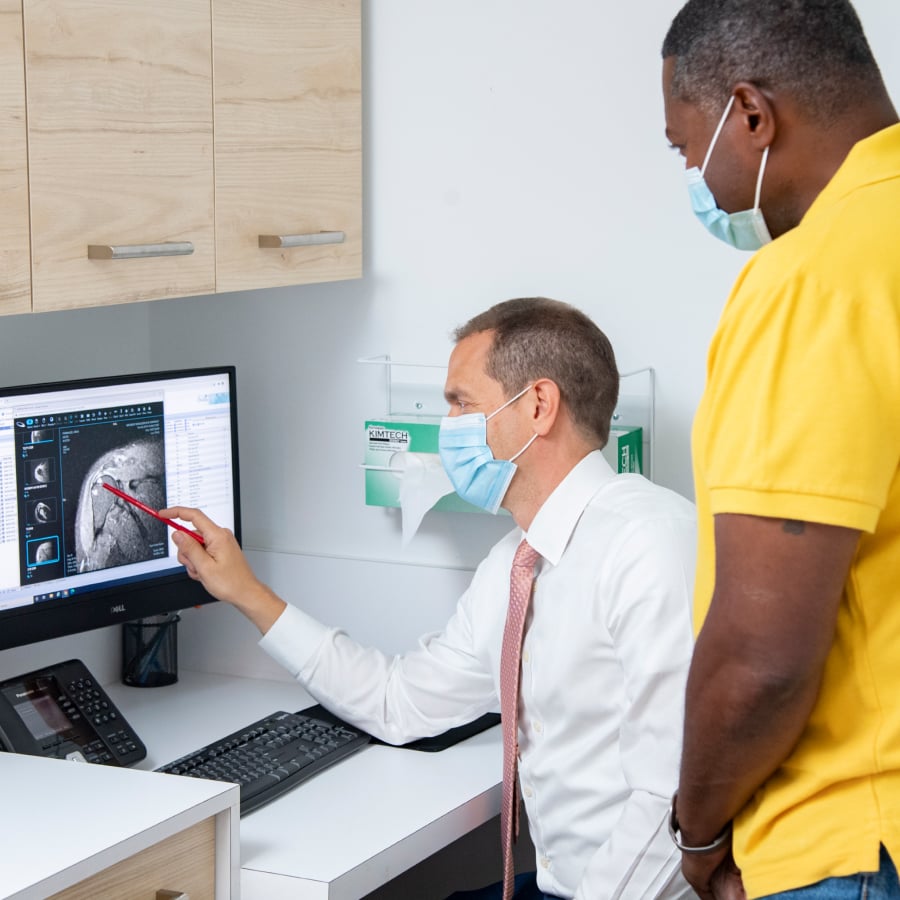 One-on-One Patient Care
Pain is personal, so our approach is personalized. At The Orthopedic Health Center, we respect that patients are coming to us to get relief from their pain and answers to their questions, which is why we invest quality time into each appointment. No matter the treatment path for your bone or joint condition, you will have access to your doctor at each step of the process, from the initial consultation through your recovery. You won't be rushed out the door!
Comprehensive Treatment Options
It can be physically, emotionally, and financially draining to have to visit multiple specialists for an injury or condition. At The Orthopedic Health Center, our doctors are experts in both surgical and non-surgical orthopedic care, allowing us to offer our patients a wide spectrum of in-house treatment options. This continuum results in a better overall outcome and prevents you from having to make visits to different doctors at different locations.
Comprehensive Orthopedics
Sports Medicine
Complete Spine Care
Pediatric Orthopedics
A Non-Surgical Approach Whenever Possible
We pride ourselves on exploring all conservative, non-surgical options to treat orthopedic injuries and conditions. If a surgical procedure is necessary to ensure a patient's long-term well-being and health, we turn to Dr. Edward Feliciano, a renowned orthopedic surgeon who's highly respected in his field. With advanced training at top programs, he is well-equipped to handle even the most challenging joint conditions, specializing in a range of surgical options that include minimally-invasive orthopedic joint surgeries, sports medicine, and shoulder and knee arthroscopy.
Respectful and Attentive Staff
As part of our commitment to providing world-class orthopedic care right in Hudson County, The Orthopedic Health Center hires doctors with extensive training, all of whom are published and highly respected within the medical community. Our entire skilled medical staff is friendly and professional, welcoming you into a space where your voice is heard and your time is valued. And our goal is shared – simply put, we want you to feel better as soon as possible.
Our goal is getting you back to doing what you love.
Appointments available now.