The road to recovery is close to home
Wherever it hurts, we can help. The Orthopedic Health Center is fully equipped to treat acute and chronic conditions of the bones and joints, helping patients regain strength and mobility. Our team offers all Hudson County residents the highest quality orthopedic care close to home, whether you're struggling with back pain from a car accident, an ACL tear, or a rotator cuff injury.
Our Director of Orthopedic Surgery, Dr. Edward Feliciano, is an award-winning surgeon who offers complete care across the spectrum of orthopedic needs, including arthroscopic surgeries. His focused, one-on-one approach prioritizes each patient's unique needs from the first visit onward. Learn more about our areas of service and how we can help you get back to enjoying life at its fullest.
We Specialize In Treating
Advanced Orthopedic Care in Your Neighborhood
When you're living with pain, there is no time to waste. We offer the convenience of two Hudson County locations, where our medical staff is ready to welcome you into our care and help heal what hurts. Learn more about our locations and book your appointment today.
Should I See an Orthopedic Doctor?
There are many bone, joint, and muscle issues that may require the intervention of an orthopedic specialist or surgeon. It can be difficult to assess on your own whether or not to seek care, but there are some common signs that indicate a visit may be necessary. If you're having any of the following symptoms or issues, we recommend scheduling an appointment:
You're suffering from chronic pain in your joints or bones
You feel unstable when walking or standing
You're struggling with limited range of motion
You have a soft tissue injury that has not improved after 48 hours
Your pain is preventing you from doing simple, everyday tasks and activities
Orthopedic Evaluation, Diagnosis, & Treatment
At The Orthopedic Health Center, we can evaluate your pain and make a proper diagnosis, offering you direct access to an award-winning surgeon without the inconvenience of traveling into the city. Using the most advanced techniques available –– and one-on-one conversations to learn more about you –– we will make an accurate diagnosis and decide on a treatment plan that's best for your long-term health. Surgery is our last resort after exhausting non-invasive treatment options, but if it's unavoidable, you're in the right hands.
Wherever it hurts,
we can help.
No injury is too small to expect exceptional orthopedic treatment. Whether you have a stubbed toe or a chronic spinal condition, we prioritize your care.
Shoulders are susceptible to instability and injury, especially from sports, physical labor, or accidents. The shoulder is also prone to arthritis and inflammation from wear and tear over time. Learn more.

From minor set-backs to more severe issues, back, neck, and spine pain is common, and one of the top reasons people see an orthopedic specialist. Learn more.

Because we use our elbows, wrists, and hands for nearly every activity, these three parts of the body are highly susceptible to pain due to injuries and general usage. Learn more.

Together, the pelvic bones and hip joint form the starting point of the lower half of the body. Disease or injury can make everyday activities painful. Learn more.

Leg pain is often caused by regular wear and tear, injuries, or overuse. Some forms of leg pain are caused by circulation issues and blood clots. Learn more.

Knee pain and injuries affect patients of all ages, making the knee one of the most common reasons patients seek orthopedic care. Learn more.

Although your ankles and feet are strong enough to support the weight of your body, they are also easily injured. Even minor ankle and foot injuries can be painful. Learn more.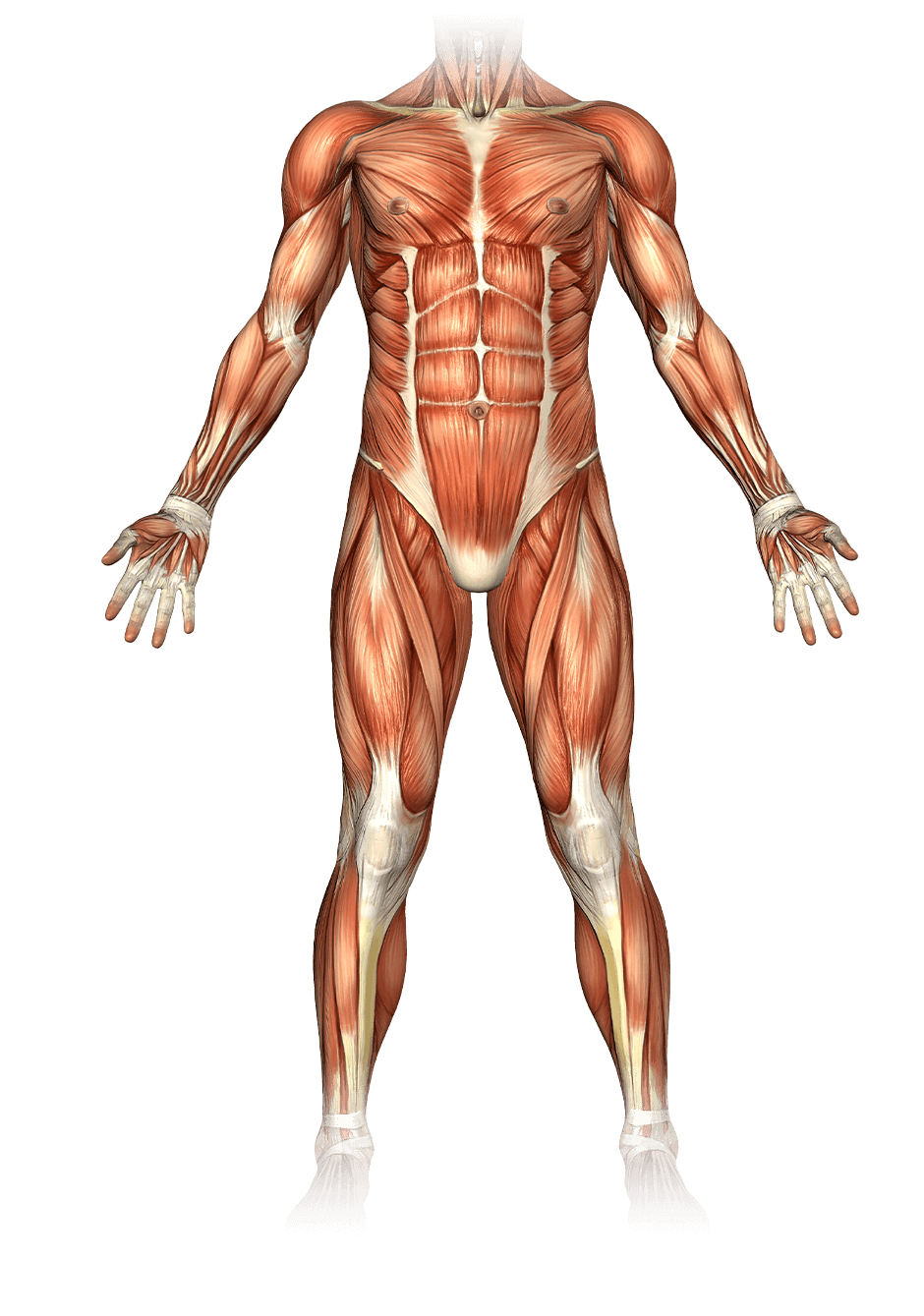 Our Personalized Approach to Comprehensive Orthopedics
At The Orthopedic Health Center, our approach to care comes down to three words — personalized, focused, and holistic. We place as much value on the patient-doctor experience as we do on cutting-edge techniques and advanced therapies, considering each patient's specific challenge and goals. Our commitment to excellence has made us the trusted choice for orthopedic care in Hudson County. Some benefits of scheduling at our office include:
No runaround to see your doctor or get answers to your questions. You'll have direct access to your doctor and the support of our highly-skilled medical staff.
The most advanced therapies and techniques, with a focus on non-surgical treatments.
A clean, modern environment to receive your care.
Consistency and communication. As our patient, it's important that you understand what's happening every step of the way.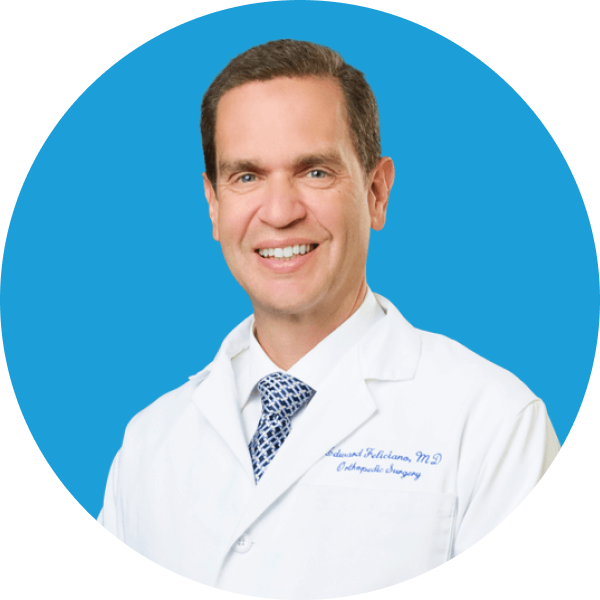 Edward Feliciano, MD
Director of Orthopedic Surgery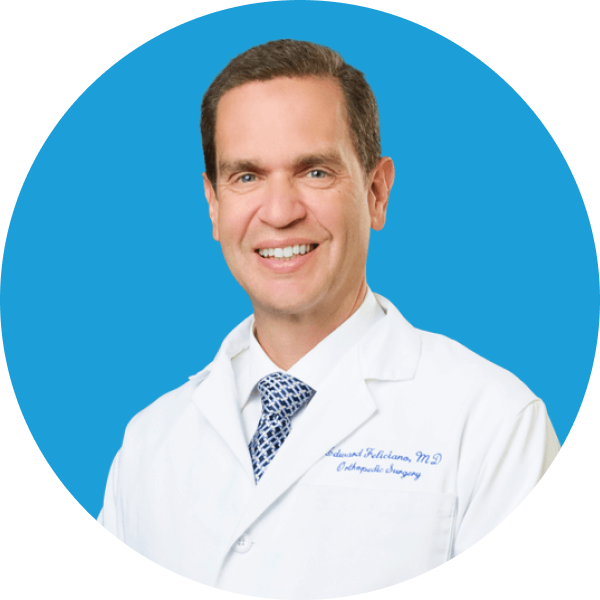 Edward Feliciano, MD is a friendly board-certified orthopedic surgeon and the director of the orthopedic surgery with training from Yale, Cornell and Georgetown University.
Feeling good shouldn't require a wait.
Appointments available now.